Call East Houston Foundation Repair Today!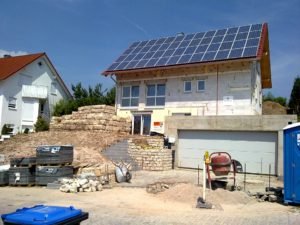 Hello there and welcome to your number one foundation repair company in and around the Houston area. Our team specialises in a range of repair and restoration services to aid in the structural integrity of properties of all sizes. Over the past few years we've worked tirelessly to develop our reputation and as of 2016, we've helped hundreds of home owners, commercial property developers and everyone in between.
If there's one thing that we pride ourselves on above all else it's the quality of our work, and we can safely say that to date we haven't had to walk away from a single unsuccessful project without completing it to a satisfactory level. Our team are fully trained, qualified and licensed - and if our clients could say a single statement about us; it's that we are one of the most reliable service providers in the business.
Houston is an extensive metropolis at Texas, extending up to Galveston Bay. It has a humid subtropical climate, with occasional severe weather that causes flooding. At times there are thunderstorms which bring tornadoes to this area, especially during spring. Houston also sometimes experiences tropical cyclones at the time of Atlantic hurricane season. The cyclones can bring very heavy rainfall, causing significant damages to the city. All these erratic weather patterns at Houston make foundations vulnerable to cracks and damage.
Such damage needs the attention of professionals as they continue to weaken the foundation, making it vulnerable to further damage in the event of subsequent heavy rains.  We have been providing foundation repair services in Houston (and surrounding cities) for many years, therefore we know ways fix problems caused by unpredictable climate.
Without the proper level of care and attention needed, even the smallest of properties could soon find its structure beginning to crumble – and over time this can result in irreparable damage; not to mention being very dangerous, too. Authorities suggest that homes in Houston be subjected to an extensive evaluation at least once a decade, but personally we feel that even this might not be enough.
We've been there when the real damage within a house has been brought to the attention of a home owner; and we've helped countless people to enjoy the benefits of a fully-functional and entirely safe property. Our team of experts use some of the most advanced tools and resources - and we have access to extensive utilities and features.
With these resources we are able to gauge the condition of your foundations, take notes on any concerns that we notice and then present you with our findings. We'll never make you feel obliged to continue with our repair services; but we will encourage you to ensure the structural integrity of your home. Rather than putting yourself and your family at risk – you could have our experts visit your property and take care of the concerns in next to no time, all at a very affordable rate.
Why Choose Our Foundation Repair Service?
We understand that it can be easier to ignore a potential problem with the foundations of your home than to have them addressed; but that's why we make a point of keeping our services as easy to book and affordable as possible. We go above and beyond the call of duty when it comes to looking after your requirements and that's why so many people rely on us to take care of all of their foundation repair needs.
We offer some of the fairest rates in Texas, let alone the Eastern Houston area. We are able to keep our costs as low as we do because we make sure that our overheads are minimised in every possible way. We'll never cut corners, nor will we expect you to cover costs that you wouldn't have to face otherwise.
Our attention to detail is second to none and you can rest assured that if there's a possible issue within the structure of your home – we will be able to spot it and take care of it in next to no time. We call upon some of the most advanced machinery available and not only do these utilities make our job that much more efficient; it also allows us to provide an award winning service to you.
We make a point of getting to know you, your budget and your expectations - so that we can tailor our services in a way that will benefit you the most. We'll consider the access to your home and schedule an appointment at a time and a date that suits your needs. Whether you're hoping for a quick quote or an extensive evaluation, our experts are as highly trained as they are experienced - and we can promise to help you to guarantee the integrity of your property today.
Don't just take our word for it – you can get to know what our clients think about our services right here on our site. There's a reason why we're considered one of, if not the, leading foundation repair service in Houston and that's because we really know what it takes to provide a world-class service. If you'd like to learn a little more about what we do and how we could benefit your home today, then continue reading below and we'll introduce you to what we offer and how we can help.
We Are A Qualified Foundation Repair Contractor
It is essential to have professionals attend to damaged foundations soon after noticing the signs.  Our foundation repair covers cracked and concrete foundation repairs for domestic or commercial units, and we can promise to address your concerns at the heart of the issue, whilst taking a minimal toll on your daily lifestyle and without having to affect your day to day obligations and responsibilities.
We also perform:
Structural repair
House levelling
Drainage service
House raising
Pier and beam
Crawl space recovery
As one of the leading services in the Houston region, we do comprehensive foundation repairs that will make your structure strong enough to withstand climate - and stay secure without the need for other repair work.
Just inform us when there is a need to look at cracks, foundation settlement and concrete foundations. We will also sort out slap repair, sticking doors, drainage issues and sinking. When we get a call we send our experienced inspectors to the client for structural evaluation, in order to pinpoint the exact problematic points that need attention and to discern which type of foundation repair may be required.
Our ability to identify problems in the foundations of residential and commercial properties has enabled us to save our clients in terms of insurance premiums and give them peace of mind.
Our Houston Foundation Repair Service Is Affordable
Most building owners use costs as one of the major reasons why they choose to use a particular foundation repair company. There are many factors used to determine the cost of foundation repair. We are a responsible service that informs the clients of the reasons for the costs of specific foundation repair projects.
It is the reason why we start by inspecting buildings for foundation problems using various point factors to settle for the most suitable solution at the most affordable prices.
Once we agree on the cost, we will work according to the schedule of our clients, so as to avoid inconveniencing them. We do thorough work within the shortest time possible. After completing the work, we will clear away all the debris. Please call us at: (281) 201-4724 to schedule a FREE Consultation.
Whether you have spotted a potential issue within your home, if you've noticed that subsidence has started to take its toll on the internal balancing of your property, or if you'd simply like to make an inquiry regarding our services and prices – you can reach us directly on the number mentioned above and one of our team could be with you in no time to offer a free, no obligation quote.
We consider it our top priority to ensure that you, your family and your property remain safe – so why put yourselves at risk of being one of the households each year that suffer with irreparable damage? When we say that the condition of your foundations should be a priority, we aren't exaggerating; unless they are in the best condition all year round – you could be putting yourself in unnecessary danger.
If you'd like to hire our services for your residential or commercial property – get in touch with our friendly team today and we'll make sure that your every need is taken care of. There's a reason why we are trusted by so many people in and around Houston, and that's because we are honest, reliable and affordable - so don't put your project off for any longer than it has been already!
Directions To E Houston Foundation Repair:
We Service The Following Areas:
Harris • Brazoria • Fort Bend • Waller • Montgomery • Liberty • Chambers • Galveston
We Service The Following Communities:
Bellaire • Bunker Hill Village • Deer Park • El Lago • Galena Park • Hedwig Village • Hilshire Village • Humble • Hunters Creek Village • Jacinto City • Jersey Village • La Porte • Morgan's Point • Nassau Bay • Pasadena • Piney Point Village • Shoreacres • South Houston • Southside Place • Spring Valley Village • Taylor Lake Village • Tomball • Webster • West University Place